---
ALL-IN-1 "AYURVEDA NUTRITION' WORKSHOP
By Dr Preeti, Dr Dharna, Dr. Satyam & Shailu Suresh
Includes presentation material, interactive videos, case studies & hands-on cooking
21 November, Friday, 10am-6pm @ Om Vedic Heritage Centre, Level 2
$150 /pax (Om Vedic Members get 10% discount)
Register NOW! 10 seats only; email to register
omvedicheritage@gmail.com
click here for more details
---
CME TALK on "INTEGRATED TREATMENT APPROACH TO RHEUMATIC PROBLEMS"
By Dr Ramesh Varier, BAMS, PGDCA,PGDBM
Sr Ayurvedic Consultant; MD, AVN Group of Companies, India
for Ayurevdic Doctors, Allopathic Doctors, Homeopathic Doctors, Naturopaths and other medical service providers
21 November, Friday, 7-9pm @ Om Vedic Heritage Centre, Level 2
$50 /pax
---
KALAA UTSAVAM 2014; 23 November, Sunday: 3.30pm
---
"JANANI" Pregnancy Programme
http://www.omvedicheritage.com.sg/womenshealth.html
OM VEDIC provides POST NATAL MASSAGE SERVICES as well!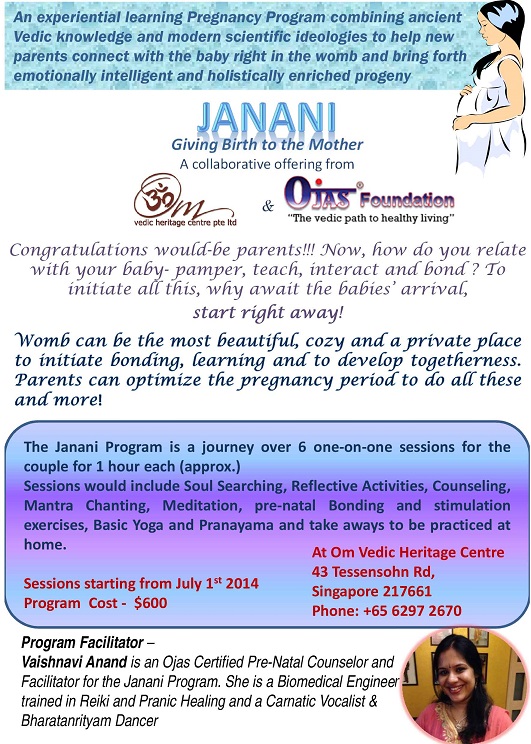 for enquiries, email us omvedicheritage@gmail.com
---
Download Today! A story book app available on Androids and Google play for free…,
DanVanaTrey
intellectually and visually interesting story book of three best friends. A resourceful book that help kids learn rhyming words with fun.
It comes with an interactive trivia, educational games that kids would love to play and learn. Dr. Preeti Bhagat as a developer and content writer of this app shares the top 5 things that this app uniquely offers:-
Captivating, hand-drawn illustrations
✓ Both adults and kids will love reading and playing it over and over again!
✓ Easy to learn, rhyming words interface
✓ Jump to any page in the book with our snail, home buttons
✓ Available in English Language
https://play.google.com/store/apps/details?id=com.thesocialowl.danvanatrey