Yoga Partner

Om Ayurveda (Om Vedic Heritage Centre Pte Ltd) is proud to announce its partnership with Vyasa Yoga & Ayurveda Singapore Pte Ltd a renowned Yoga School conducting Certificate Level Courses in Yoga Teacher's Training and Yoga therapy. The parrnership's objective is to work on increasing awareness and acceptance of Ayurveda and Yoga and related complementary therapies in Singapore and the region. Om Vedic strives to offer its members of such partnerships, priority bookings, greater access to information, opportunities for education.
10% discount on all ayurevdic products & services for YICC students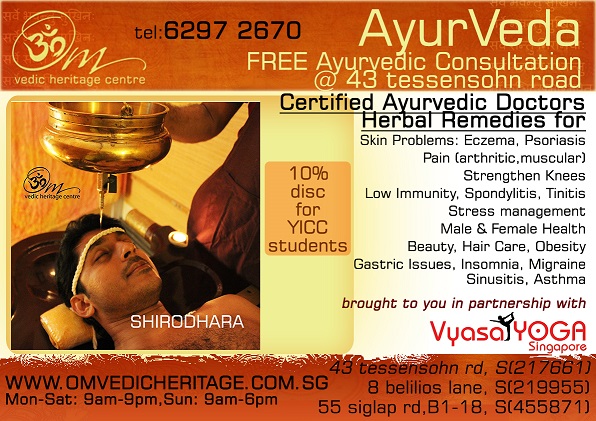 Om Ayurveda will support and participate in the International Day of Yoga 2017 (21 June 2017), along with Vyasa Yoga.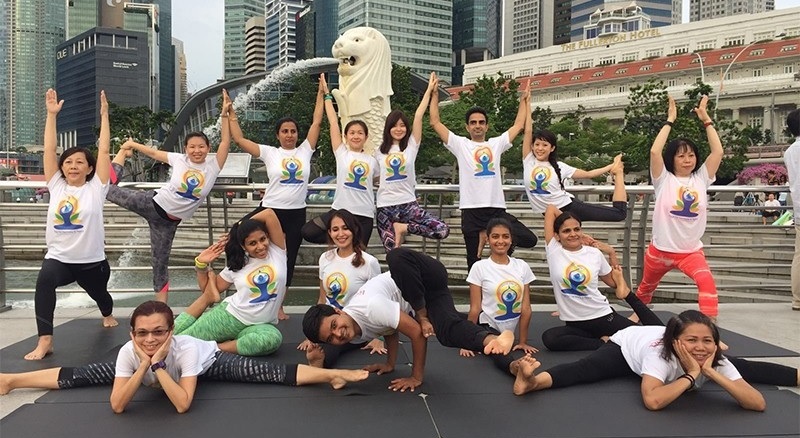 email your interest to omvedicheritage@gmail.com
---
FREE Meditation session is held on:
Saturdays: 5 - 6pm (Meditation)
Hatha Yoga:

Hatha means any tenacious practice till the object or end is achieved. "Ha" and "tha" mean the union of the Sun and the Moon, union of Prana and Apana Vayus. Hatha Yoga concerns with the body and the Prana. It helps to control the body and the Prana, through Asanas and Pranayama. Hatha yoga is a calm and slow paced form of yoga. It is suitable for those who just want to relieve stress and also for those who want to prepare themselves for higher levels of meditation. It improves the body's endocrine, digestive, respiratory, circulatory, and immune system. It helps in Increasing awareness, concentration, attention and relieves stress.
Dynamic Yoga (not for beginners: must have practiced yoga for at least 4-6 months):

Dynamic yoga combines traditional yoga postures with fluid movement and key breathing techniques to deliver a powerful, flowing, meditative and energetic practice. It helps build strength, improve flexibility, calm and focus the mind, and improve circulation. This style of yoga is cardiovascular, one uses body fat as a fuel. This makes it one of the best way to lose weight and develop muscle tone.
Pre-natal Yoga:

A gentle type of yoga which realizes the changing needs of a woman's body while she is pregnant. Student could learn poses which may help ease the discomforts of pregnancy and prepare the body for childbirth. In addition, student would discover the mental benefits of prenatal yoga during pregnancy.
Post-natal Yoga:

Postnatal Yoga is designed to be both safe after childbirth and focused on muscles used in labour, delivery and caring for baby. Reconnect with your pre-pregnancy shape and lifestyle today!

Trataka or Eye Yoga:

In Sanskrit it means the practice of staring at some external object to keep away the eyestrain by improving the stamina of eye muscles and by giving deep relaxation to them. It makes the eye clear, bright and radiant. It cleanses the tear glands and purifies the optical system. Errors of refraction get corrected. It strengthens the ability of the lens to adjust better to distances. It balances the nervous system, relieving nervous tension, anxiety, depression and insomnia.

Yin Yoga:

A deep, restorative approach to the practice. Yin Yoga offers long, meditative holds to delve into the deep connective tissues of the body. With a focus on the area of the hips and sacrum, release stress and tension throughout the entire body, creating structural and mental balance.

Yoga Nidra:

Yoga nidra is 'dynamic sleep' or in other words 'psychic sleep' in which you learn to relax consciously. A state of conscious deepsleep for extreme relaxation and subtler spiritual exploration. In the deep relaxation state of yoga nidra, the mind is in a state between sleep and wakefulness and its receptivity is many times more than its receptivity in wakeful state. The subconscious mind is at front in this state while the conscious mind takes the back seat.
Yoga Therapy:

Therapeutic sessions which deals with medical conditions, including both physical and mental problems. (one to one sessions are possible at $80 per session)
About PRANAYAMA
Prana is the 'vital energy'and ayama means 'expansion'. Pranayama means, therefore, 'the expansion of the dimension of prana'. Through the practice of pranayama one is able to attain a higher state of vibratory energy. The breathing practices will take you through basic breathing methods to various techniques of breath control.
These basic breathing methods improve one's overall health through the physical benefits of improved breathing patterns, by removing blockages in the pranic body, benefits the lungs, diaphragm and by inducing a state of mental tranquillity. Conscious breath awareness gives us the ability to control the breath and harmonise the mind and body, thus releasing stress and mental disturbance. As with yoga practice, wait until at least 3-4 hours after meals before practising pranayama. It is with continuous practice that you get to experience the benefits and take it into your daily life.