New
OM VEDIC @ SENGKANG, FERNVALE POINT
New
Opens on 8 Jan 2014
OM VEDIC is happy to announce the LAUNCH of its 2nd OUTLET
Om Vedic is expanding ! Our 2nd outlet is now ready to serve our dear customers in the EAST & is exclusively for BEAUTY & WELLNESS & will be housed at
ANGELS, 21 Sengkang West Avenue, FERNVALE POINT, #01-04.
Services available at Fernvale Point Outlet are Ayurvedic Consultations(mon,wed,fri:9am-12nn) & Beauty services (mon-sun)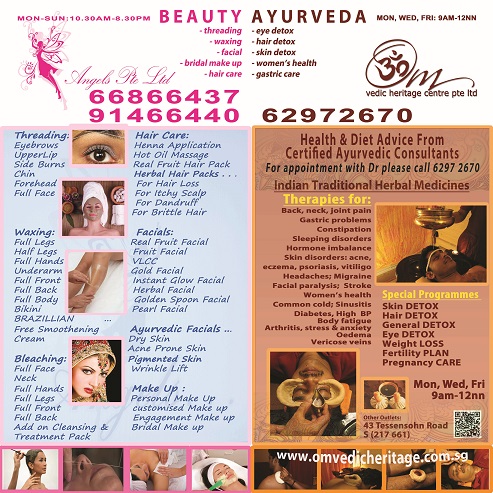 NEW YEAR SPECIAL OFFER ...FREE...NOT TO BE MISSED
Venue @ Singapore Civil Service Club, 60 Tessensohn Road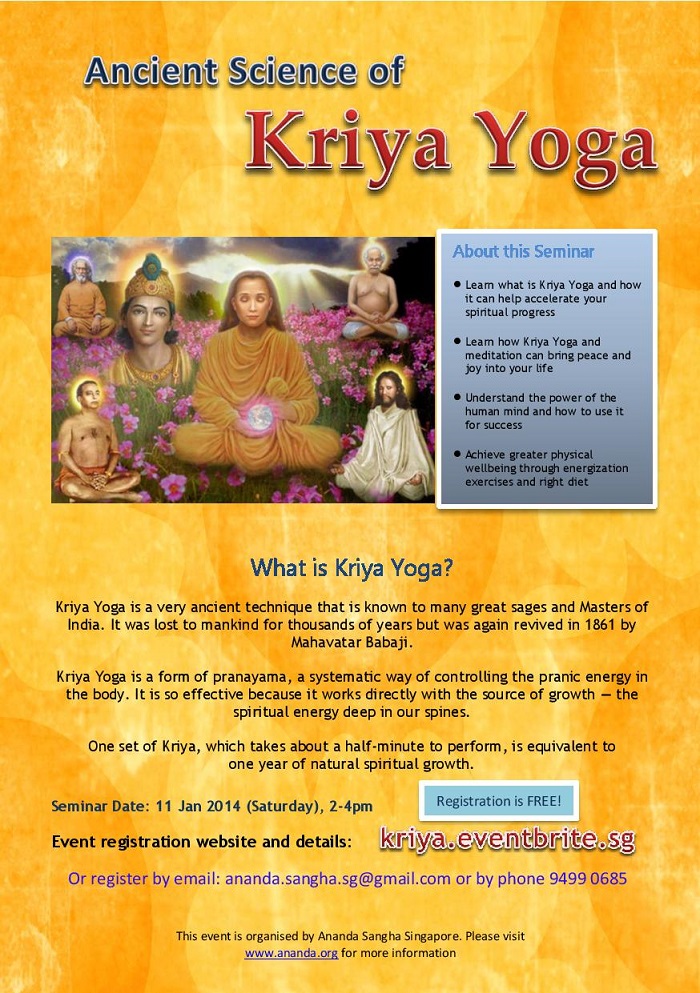 UPCOMING EVENTS
For a Healthy 2014 !
Register by emailing omvedicheritage@gmail.com; Register 4 days prior to event (min class size required)

(1) TODAY>>>>>>"What influence will the planets have on us in 2014?" by Master Chittur Vijayan (Hora Shastra Expert), on Saturday 4 Jan 2014, 3-5pm. $10 (members) & $20 (non members). All attendees of talk will get astrological horoscope reading (one per pax) @ 50 % off; $40 / 1 hour

(2) FREE "KUNDALINI YOGA" preview & Q&A session by Christine Plaud. Sunday, 12 Jan, 9-9.30am

(3) "Dinacharya: Ayurvedic Daily Regimen". Practical workshop by Dr.Dharna (Ayurvedic Consultant, Om Vedic Heritage Ctr). Thursday, 16 Jan 2014;7-9pm $10 (members) & $20 (non members).
YEAR END & NEW YEAR OFFERS
Purchase by 31 January 2014 & Use by 30 June 2014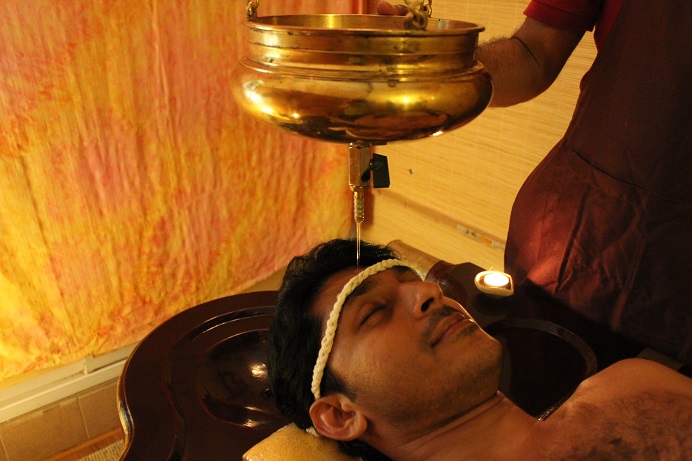 ABHYANGA / FULL BODY MASSAGE
8
sessions @ $332 (M); $384 (NM) (UP: $440)
SHIRODHARA

7 sessions @ $480 (M); $535 (NM) (UP: $595)
ANTI-WRINKLE HERBAL FACIAL
new
4 sessions @ $240 (M); $292 (NM) (UP: $320)
FOOT MASSAGE
(week days only, by appointment)
1 session (30min) @ $20 (M); $30 (NM) (UP: $35)
ASTROLOGY
Consultations with Master Vijayan until 14 Jan 2014


YOGA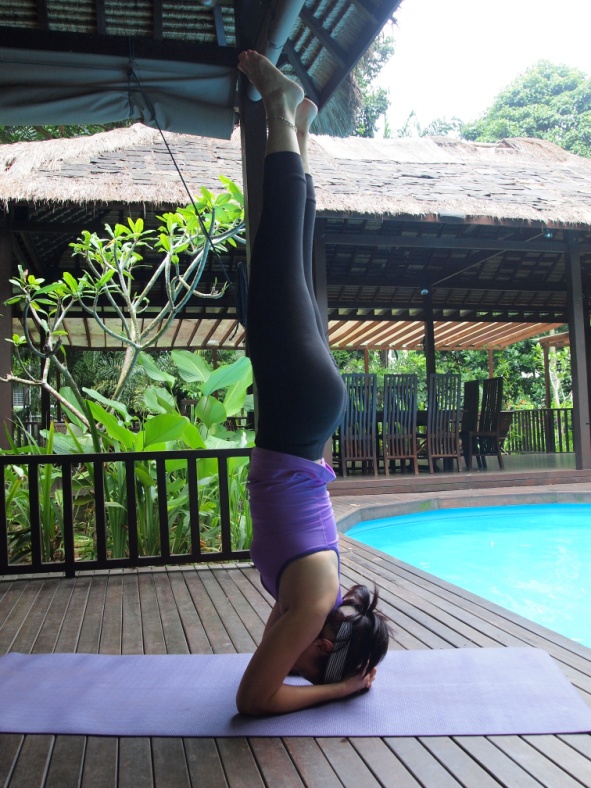 HATHA Yoga Classes
Fridays, 7.30-8.30pm by Mona & Team
Saturdays, 10.30am-11.30am by Rosie


@ $50/month for Om Vedic Members or $15/lesson
private lessons for families/friends (min 4pax) at Om Vedic is possible

SPECIAL YOGA PACKAGE (eye yoga, pranayama&more) coming soon on Wednesdays by Rosie
TESTIMONIAL: "Rosie is a great instructor and always responds to queries on specific body or health issues.The class dynamics are good but for me the instructor is most important. Rosie brings a good mix of discipline and fun to the practice making it a class I look forward to attending."

FREE Meditation sessions are held on:
Saturdays: 9 - 10am (Guided Pyramid Meditation)
Saturdays: 5 - 6pm (by Ananda Sangha)

MUSIC
South Indian Classical / Carnatic Music Lessons*
1-1 @ $70/month
Group @ $45/month

Bhajans & Namavali Lessons*
1-1 @ $60/month
Group @ $45/month

* Om Vedic Membership is required

Aditi Gopinath

Degree, Carnatic Music
University of Madras
OM SEVA / OM CHARITY
Buddha said "Acts of Giving Serve as an Antidote to Desire"
SMS 93859520 if keen to do DONATE in-kind or cash
Om Vedic is happy to introduce Wednesdays as 'seva day' or 'charity day'

also known as 'Budh Daan' according to the vedic tradition: the day of planet Mercury (Budh), who is often considered compassionate and generous.





- Clothes have been collected for children in India & Bali, in Nov & Dec (thanks to Om Donors).





- "Silver Yoga" for Senior Citizens (in Mandarin) ..

coming soon

-

Educate a child in Bali

(any amount accepted)..DONATION BOX @Om Vedic

OTHER SERVICES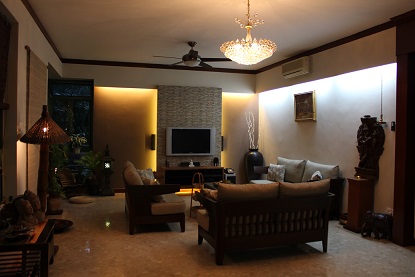 INDIAN or BALINESE TRADITIONAL INTERIOR DECO: Are you renovating your house and moving to a new home? Looking for a Traditional Indian or Balinese Interior Designer at an affordable cost? We can help you at an affordable consultation fee (2 home visits + 2 plans) and we will also help you with recommendations to buy your furnishings.

Ayurvedic Wellness Centre: Start-up Consultation provided
http://www.omvedicheritage.com.sg/business.html