HAPPY LUNAR NEW YEAR to our dear Chinese Brothers & Sisters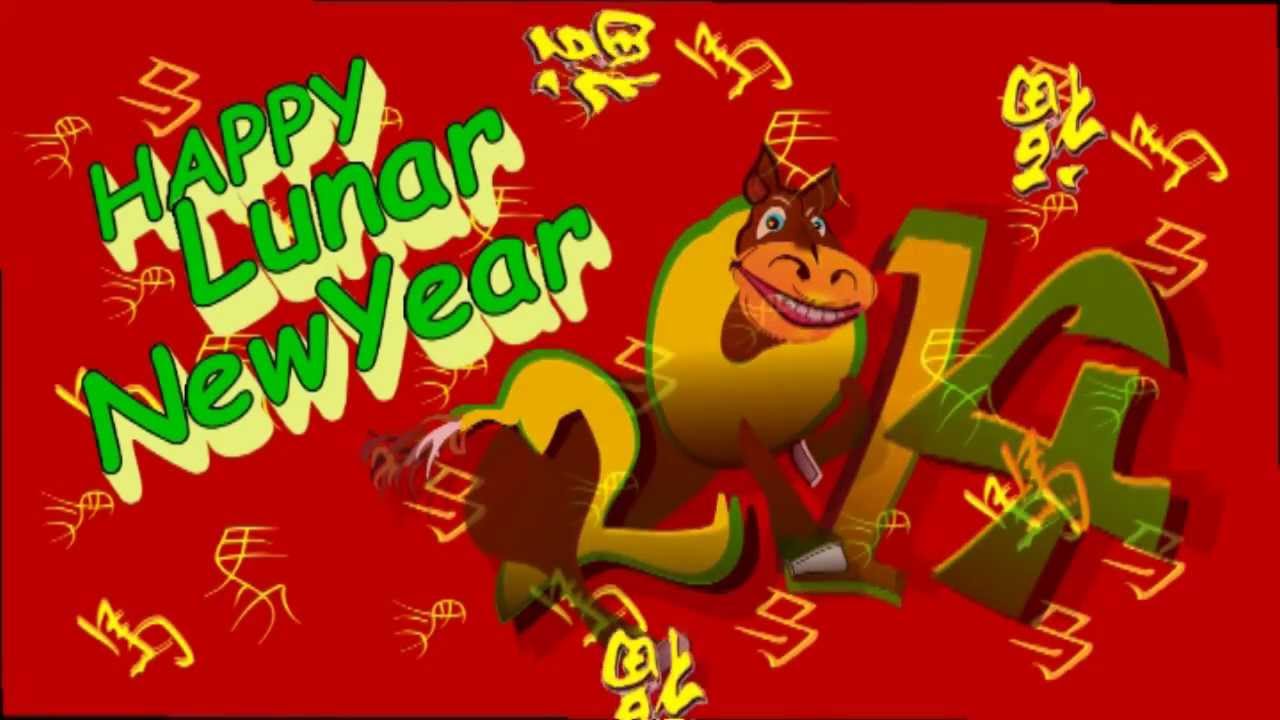 Lunar New Year SPECIAL OFFER ......NOT TO BE MISSED
Full Body Ayurvedic Oil Massage ($38 for members and $45 non-members)
with a minimum purchase of 8 sessions (UP: $55/session)
Herbal facial ($40 for members and $50 for nonmembers (UP $60)
with a minimum purchase of 4 facials
FREE Consultation with Dr Dharna and Dr Anjali till end Feb 2014
$20 voucher (used for external therapies only) for every NEW REFERRAL
UPCOMING EVENTS
For a Healthy 2014 !
(1) FREE PRANAYAMA (2 sessons) for members only ; $10/class for non-members
Email omvedicheritage@gmail.com to register. 15 & 22nd Feb, Saturdays, 8-9am

(2) FREE "KITCHEN DOCTOR" Practical workshop by Shailu (Ayurvedic Lifestyle Consultant, Om Vedic Heritage Ctr). Saturday, 22 Feb 2014 2-4pm FOC (members) & $20 (non members). Spices, herbs, vegetables and simple home remedies.
Email omvedicheritage@gmail.com to register.

(3) SCHOOL HOLIDAY SPECIAL: NEW AYURVEDIC LIFESTYLE Workshop: Lifestyle 1-day workshop to help you realise your inner potential and prosper in life! Includes Gayathri Manthra, Pranayama, Meditation, Ayurvedic cooking, Lifestyle, Mantras for health, Talk on "who am I ?" & more. Come with your family,especially children.....7.30am-6pm, Monday 17 March $70 (members) & $100 (non members). email omvedicheritage@gmail.com for more details.

(4) Coming soon: 3 days 2 nights AYUR-YOGA camp in BALI (June holidays)....
BEAUTY & WELLNESS at

ANGELS, 21 Sengkang West Avenue, FERNVALE POINT, #01-04.
Services available at Fernvale Point Outlet are Ayurvedic Consultations (mon,wed,fri:9am-12nn) & Beauty services (mon-sun)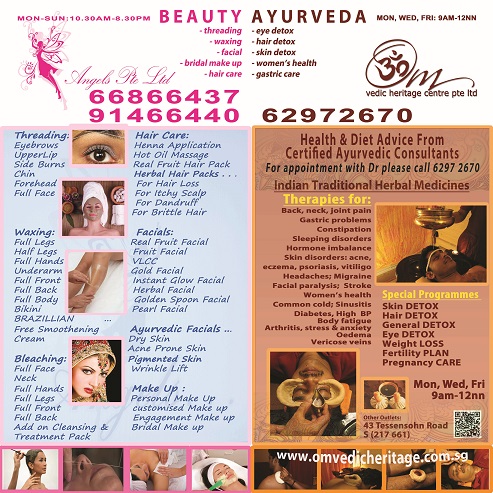 YOGA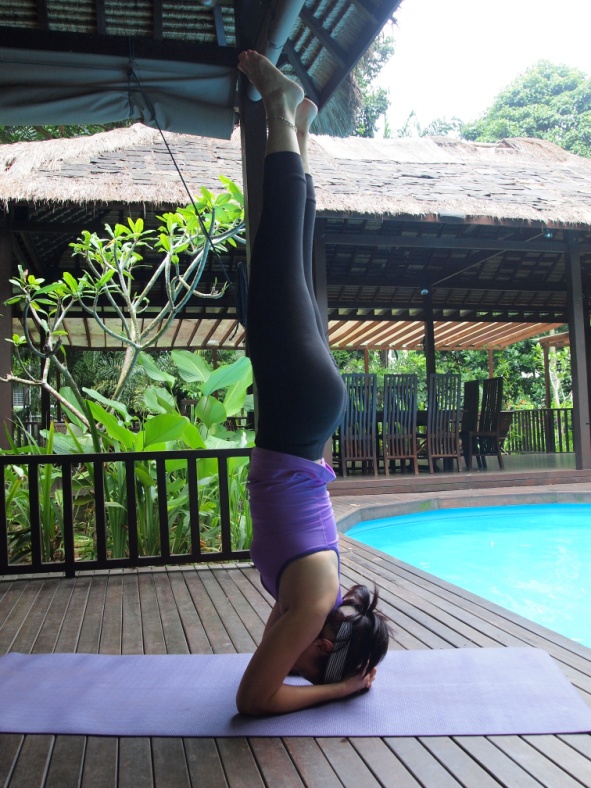 HATHA Yoga Classes
Fridays, 7.30-8.30pm by Mona & Team
Saturdays, 10.30am-11.30am by Rosie


@ $50/month (Members) or $20/lesson (Non-members)
private lessons for families/friends (min 4pax) at Om Vedic is possible

"EXPAND YOUR AWARENESS" YOGA WORKSHOP Starts 16 March
every sunday, 9-10.30am by Rosie. Twelve 90min lessons (Asanas, Pranayama & Meditation)
$420/12 lessons (Members get 10% off)....5 seats taken up already
TESTIMONIAL: "Rosie is a great instructor and always responds to queries on specific body or health issues.The class dynamics are good but for me the instructor is most important. Rosie brings a good mix of discipline and fun to the practice making it a class I look forward to attending."
email omvedicheritage@gmail.com to regsiter

FREE Meditation sessions are held on:
Saturdays: 9 - 10am (Guided Pyramid Meditation)
Saturdays: 5 - 6pm (by Ananda Sangha)

MUSIC
South Indian Classical / Carnatic Music Lessons*
1-1 @ $70/month
Group @ $45/month

Bhajans & Namavali Lessons*
1-1 @ $60/month
Group @ $45/month

* Om Vedic Membership is required

Aditi Gopinath

Degree, Carnatic Music
University of Madras
OM SEVA / OM CHARITY
Buddha said "Acts of Giving Serve as an Antidote to Desire"
SMS 93859520 if keen to do DONATE in-kind or cash
Om Vedic is happy to introduce Wednesdays as 'seva day' or 'charity day'

also known as 'Budh Daan' according to the vedic tradition: the day of planet Mercury (Budh), who is often considered compassionate and generous.





- "Silver Yoga" for Senior Citizens (in Mandarin) ..

coming soon

-

Educate a child in Bali

(any amount accepted)..DONATION BOX @Om Vedic
Note: about $150 was collected and will support about 3 months school fees for 1 child (thank you Om Donors)

OTHER SERVICES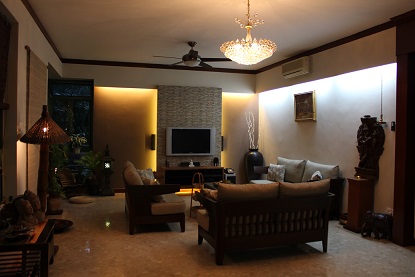 INDIAN or BALINESE TRADITIONAL INTERIOR DECO: Are you renovating your house and moving to a new home? Looking for a Traditional Indian or Balinese Interior Designer at an affordable cost? We can help you at an affordable consultation fee (2 home visits + 2 plans) and we will also help you with recommendations to buy your furnishings.

Ayurvedic Wellness Centre: Start-up Consultation provided
http://www.omvedicheritage.com.sg/business.html

Om Vedic. Singapore
43 Tessensohn Road, Singapore 217 661 mon-sat: 9am-9pm; sun: 9am-5pm
ANGELS, 21 Sengkang West Avenue, FERNVALE POINT, #01-04. mon,wed,fri: 9am-12nn
Om Vedic Training Centre. Bali
Ashram Gandhipuri, 22 Jalan Gandapura, Denpasar, 80237, Bali, Indonesia
Ashram Gandhipuri, Jalan Raya Paksebali, Klung Kung, Bali, Indonesia
email:
omvedicheritage@gmail.com
LIKE Facebook Page
unsubscribe from this list

Co
yright 2013 Om Vedic Heritage Center Pte Ltd, All rights reserved